Browse Categories
Subscribe

Get email updates on new products
China Manufacturer KunXing Glass factory supply multilayer laminated safety glass cut to size
1.Product name: Clear multilayer laminated safety tempered glass
2.PVB/SGP/EVA film thickness: Unlimited thickness two layers, triple layers, four layers, etc.
3.Size: Customized according to customer requirements, Min size is 300x300mm
4.Package: Strong plywood crates and steel belt.
5.Delivery time: Within 15 days after order is confirmed
6.Processing: Cutting, polished edge, drill hold, logo printing, tempered
China Manufacturer KunXing Glass factory supply multilayer laminated safety glass cut to size
About multilayer laminated safety tempered glass
Laminated glass, also call multi-layer glass, is a super-safe glass, made by bonding two or more layers of glass to PVB, SGP, EVA, etc. Under high temperature and pressure to make them tightly stick together.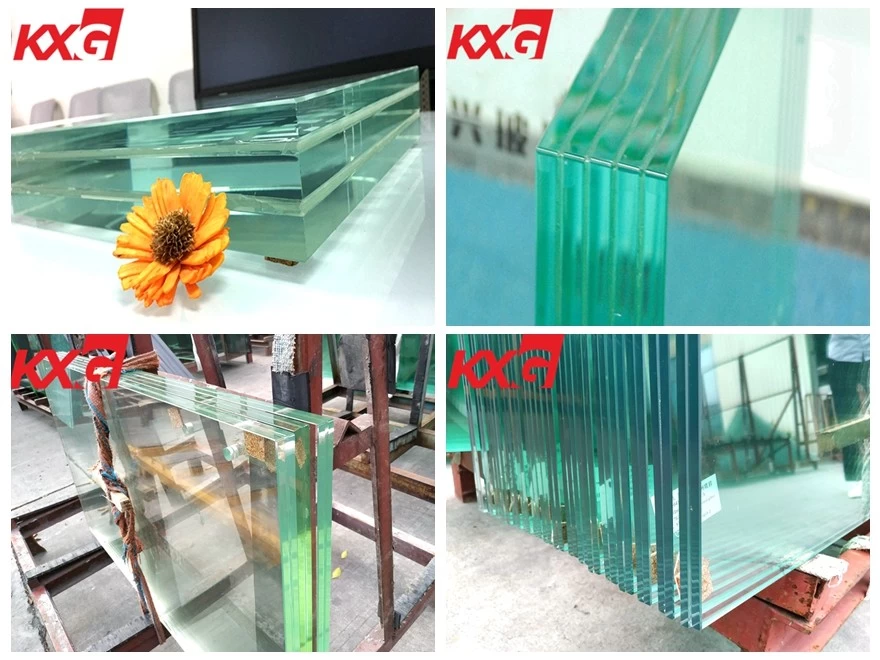 Characteristics of multilayer laminated safety tempered glass
1. Multilayer laminated glass is a safety glass. Its elastic interlayer has the ability to absorb impact energy and resist penetration. Even if the glass breaks, the glass fragments stick to the interlayer, minimizing the risk of injury and property damage. 
2. Multilayer laminated glass can effectively reduce noise. Due to the damping properties of the interlayer, it has a higher sound reduction index than a single piece of glass of equal thickness between 125 Hz and 4,000 Hz. 
3. Laminated glass blocks more than 99% of the UV rays while allowing most of the visible light to pass, which protects the internals from fading. 
4. Laminated glass is a decorative glass that can be made into a flat or curved , including annealing, heat strengthening, toughening, hot dip, wire, pattern, sandblasting, etching, screen printing, digital printing, coloring, reflective glass inner layer It can be PVB, SGP, EVA in different colors, and some materials such as fabric, metal, etc. can be added for further aesthetic and privacy needs.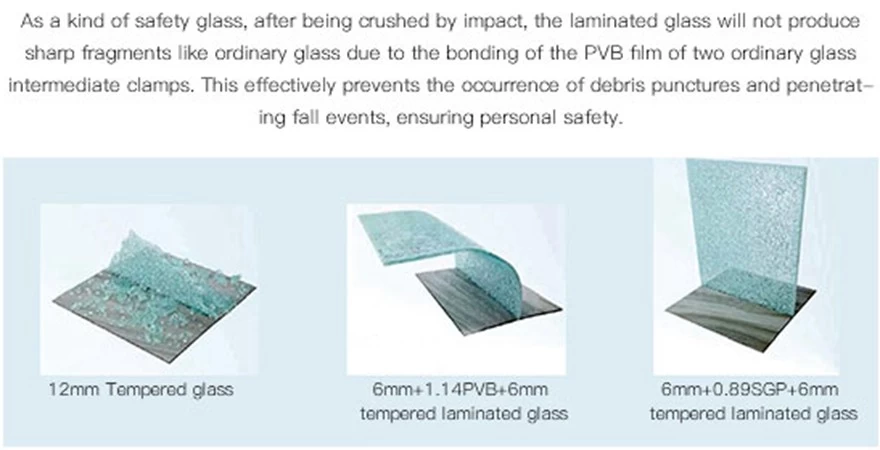 Where to use multilayer laminated safety tempered glass
Laminated safety glass is durable, is solution for the risks of natural disasters such as explosions, earthquakes, theft and prevention of social events and damage. It can be used in a variety of architectural and interior design applications such as floor glazing, stairs, balconies, Balustrade, roofs, ceilings, interior panels and exterior cladding as well as more traditional doors and windows.

DONGGUAN KUNXING GLASS CO.,LTD
Tel:+8613829982196
Contact Person:Antonia
PDF Show:PDF