Browse Categories
Subscribe

Get email updates on new products
Glass building glass factory 15mm clear toughened for balustrade,safety tempered glass fence railing
1.Glass building glass factory15mm clear toughened for balustrade,safety tempered glass fence railing
2.High transparency glass,provide high light transmission and clarity
3.High strength glass,resistant much stronger outside force attack
4.High safety glass,won't hurt human even it is broken
5.Largest size 3000*8000mm,any custom cut size can be produced
6.Use as luxury safety glass balustrade,shopping mall glass storefronts, etc.
7.Production time within 15 days after order is confirmed
China 15mm clear safety tempered glass manufacturer
Introduction
Toughened glass, also known as tempered glass, it is heated to 650 ℃ after annealing glass, sudden cooling and outer surface of the glass in high compression state, the nucleus, or center, of the glass is in a state of tension compensation.Therefore, as a safety glass, the strength, heat resistance and safety in use are important considerations.


Characteristics  
High strength 
The strength of tempered glass is 3-5 times that of ordinary annealed glass, and it has good bending and collision resistance.It can withstand 95Mpa of surface pressure.  
High

 s

afety 
After the tempered glass is broken, there will be alveolar particles with obtuse angles, which ensures the safety and harmlessness of human body. The toughening process greatly reduces the risk of thermal breakage and ensures less loss.  
High

 

stability 
Toughened glass can withstand the temperature of 250 ~ 320 ℃, while the common annealed glass can only carry 20 ~ 100 ℃ temperature changes.


Specification

Size: Maximum 3000*8000mm, Minimum 150*300mm
Thickness: 3mm 4mm 5mm 6mm 8mm 10mm 12mm 15mm 19mm
Color: clear, ultra clear, green, blue, gray, bronze, etc.
Type: Clear, Tinted, Reflective, Low Iron, Etched, Textured, color painted, pattern screen printing, Color smart, Thermodynamic color and Low E glass, etc.
Processing: All the processing like beveling, cutting, drilling, etc. must be done before tempering.

Edge work

Any edges could be done perfectly, like flat polished edge (T edge), pencil edge (C edge), beveled edge, ogee edge, matt edge, corner round edge.

Holes and notches

Tempered glass can be supplied with drilled holes (no matter straight or conical) and cut notches. We will consider hole and notch locations and size according to your drawings. 

| | |
| --- | --- |
| Glass edge to nearest point of hole | Glass less than 1/2" thick should not have holes located any closer than 1.5 times the thickness of the glass.  Glass thicker than 1/2" should not have holes located any closer than 2 times the thickness of the glass. |
| Glass corner to nearest point of hole | Holes should not be located any closer than 6.5 times the thickness of the glass. |
| Dimension of holes | The minimum dimension of a hole should not be less than the thickness of the glass. The maximum dimension of the hole should not be more than 1/3 the narrowest dimension of the piece. |
| Notches and cutouts | All must have a fillet with radius equal to, or greater than the thickness of the glass. |
Shapes
Except rectangle, we also could do shape tempered glass, like round, Trapezoid, parallel, etc.
Quality Standard 
In accordance with EN12150 European tempered glass standard
In accordance with ASTM1048 American Standard
In accordance with GB 9963-1998 Tempered Glass Standard
In accordance with GB 17981-1999 Chinese Standard Tempered and Heat-Strengthened Glass
Pass Chinese Safety Glass Compulsory Certification (CCC), IGCC, CSI.

Application
• Glass Balustrades
• Glass skylight
• Glass canopy
• Shower Screens
• Glass shelves
• Glass Doors And Windows
• Frameless Entry And Balustrade
• Public Venues
• Office Buildings
• Residential, Factories
• Hospitals And Schools
• Restaurants, Sporting Facilities
• Many Others.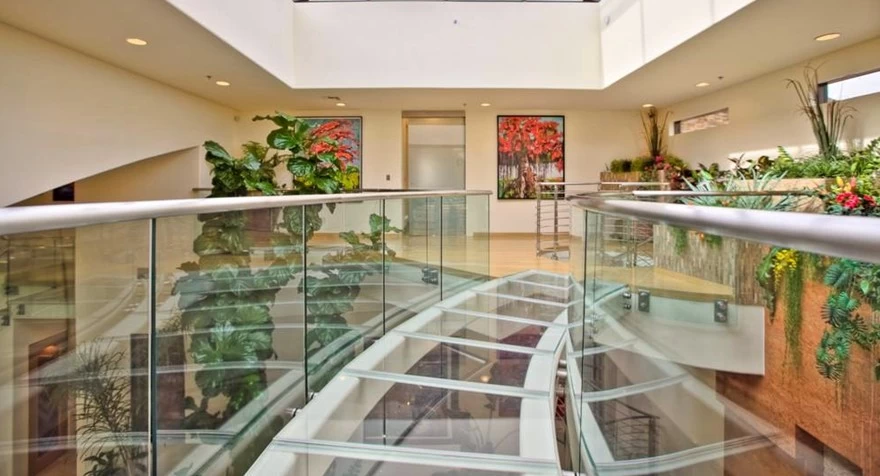 DONGGUAN KUNXING GLASS CO.,LTD
Tel:+86-13829252680
Contact Person:Crystal
PDF Show:PDF
Other Products