Browse Categories
Subscribe

Get email updates on new products
Kitchen color painting tempered glass factory,splash back lacquered safety toughened glass,silkscreen printing glass for kitchen
1.Product name color painting tempered glass,splash back lacquered safety toughened glass,silkscreen glass for kitchen
2..3-5times stronger than normal annealed glass
3.Safety glass which is human harmless when broken
4.Beveling, cutting, drilling, etc. must be done before tempering
5.Has the characteristics of strong water resistance, health and safety, strong adhesion, superior anti-skid properties.
6.Production time within 15days after order is confirmed.
7.All the glass pack in strong plywood crates with metal belt.
8.Brand name KXG Glass
Kitchen color painting tempered glass factory,splash back lacquered safety toughened glass,silkscreen printing glass for kitchen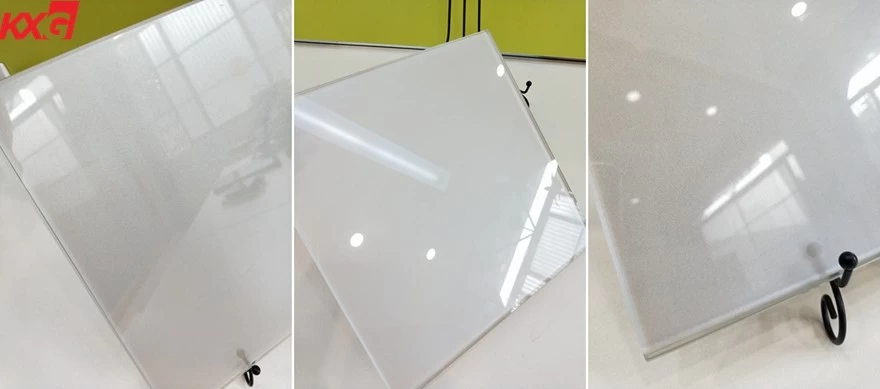 Color painted tempered glass used as splash back is more and more popular.First,we used clear float glass or extra clear float glass cutting to a desired size, then heating it to a temperature near the softening point (about 600 degrees), and then rapidly and uniformly cooling it. After the tempering treatment, we do painting process according to client's request pattern and color.Paint galas also called as painted glass or lacquered glass.

Characteristic of painted tempered glass:
Painted tempered glass has the characteristics of strong water resistance, health and safety, strong adhesion, superior anti-skid properties, and the paint glass has strong color selectivity, strong anti-ultraviolet and anti-fouling properties, and is easy to clean.
Tempered painted glass
surface is uniformly compressively stressed, and the interior is formed with tensile stress, so that the bending strength and impact resistance of the glass are improved, and its strength is approximately 3-5 times higher than that of ordinary annealed glass.
Tempered glass can't processed or damaged by any cutting, grinding, etc., otherwise it will break due to the destruction of the uniform compressive stress balance.

Specification of toughened lacquered glass: 
Thickness: 4mm 5mm 6mm 8mm 10mm 12mm,etc. 
Color: black, white, red, yellow, blue, green, gray, purple, any series color 
Size: 1830x2440mm, 2134x3300mm, 2440x3660mm, etc., any customized size


Application of tempered painted glass: 
Tempered lacquered glass not only used in kitchen splash board,also widely used on bars and restaurants, kitchens and bathrooms, door, wall, cabinet, partition,table top, wardrobes,etc.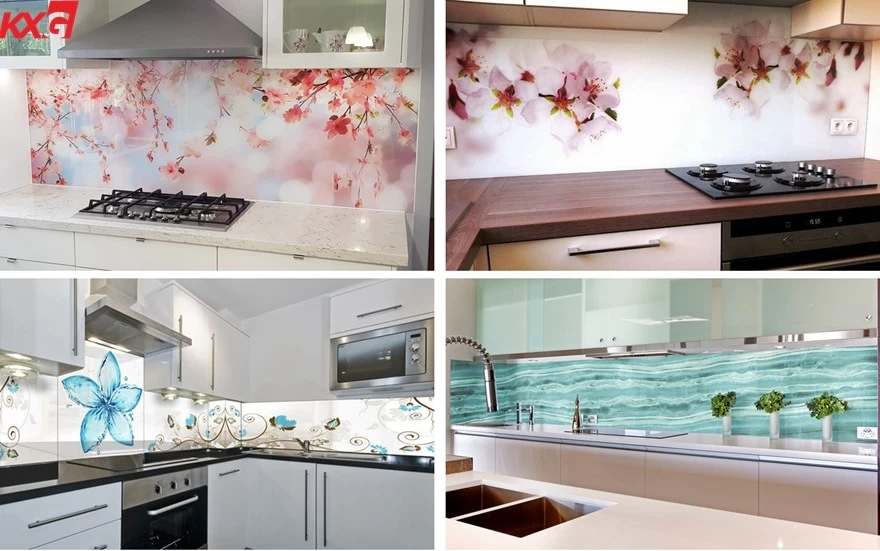 Compare with clear glass and ultra clear glass do painted process 


KXG printing glass production line

DONGGUAN KUNXING GLASS CO.,LTD
Tel:+86-13829252680
Contact Person:Crystal
PDF Show:PDF
Other Products