Browse Categories
Subscribe

Get email updates on new products
China glass factory best quality best price 6mm hard coating smoke grey heat reflective solar control glass
1. Product name: 6mm hard coating smoke grey heat reflective solar control glass
2. Has functions of lighting, energy saving, light transmittance, solar control, environmental protection, etc.
3. Color choose :gray, green, blue, gold, any color can be customization.
4. Processing: Cutting, drilling, tempered, laminated, insulated, printing etc.
5. Glass Thickness: 6mm, other available thickness 4mm, 5mm, 8mm, 10mm, 12mm
6. Delivery Time: 10 working days after order confirm
7. Used on buildings like doors and windows, balconies, curtain walls, roofs, canopies, etc.
8. Packing: Plywood crate with steel belt
6mm gray hard dark grey coated reflective glass
6mm European gray reflective float glass,which is an on-line heat reflective hard coated glass. The reaction gas is preparedby chemical vapor deposition (CVD) technology, and is fully pyrolyzed on theinner surface of the float bath under special conditions such as a mesatemperature field, a special atmosphere, and a clean glass surface, and then the polysilicon coating is continuously and uniformly deposited. Forms highquality coated glass products with uniformity, robustness, optical propertiesand chemical resistance. Due to its suitable transmission and high reflectivity, it is ideal for modern architecture.

Feature
• 6mm European gray hard coated reflective glass features lighting, energy saving, environmental protection and other decorative multifunctional features.
• The 6mm light gray reflective solar control glass reflects part of the incidentsolar radiation, which limits heat penetration into the building and may reducethe use of HVAC.
• 6mm smoky gray heat reflective glass allows the right amount of natural light to enter the building while reducing glare and saving on curtains and other indoor shading equipment.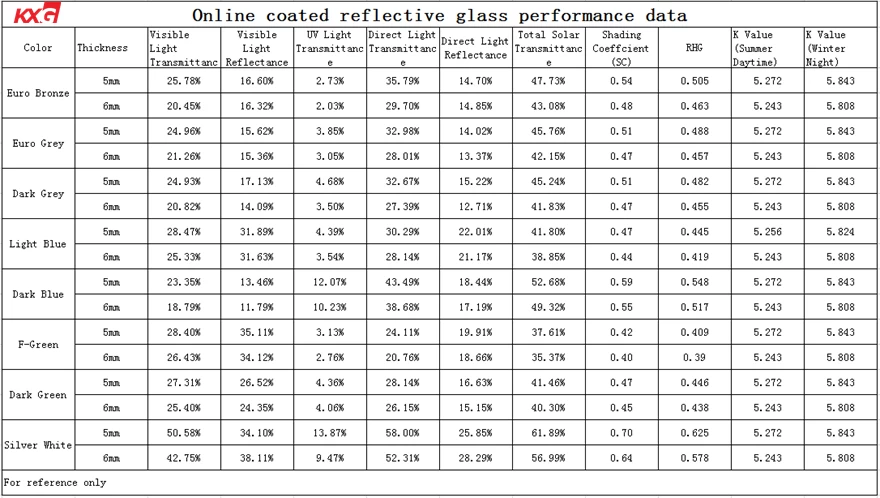 Product specification
• Available sizes: 2140x3300mm, 2250x3300mm, 2140x1830mm, 2440x3300mm, andsometimes 1830x2440mm, can be produced in any custom cut size.
•Optional processing: custom size 6mm light gray architectural reflective glass,6mm European gray reflective tempered glass, 12.38mm gray reflective float laminated glass, 12.76mm 13.14mm 13.52mm safety ash gray reflective tempered laminated glass, 6 + 12A + 6mm high Performance gray reflective insulating glass.
Application
Thanks to its excellent transmission and reflection properties, 6mm energy-saving European-style grey reflective glassis widely used in windows, balconies, curtain walls, roofs, canopies and other buildings.
DONGGUAN KUNXING GLASS CO.,LTD
Tel:+86-135000092849
Contact Person:Kevin
PDF Show:PDF
Other Products