Browse Categories
Subscribe

Get email updates on new products
Factory price 12 mm flat and curved tempered glass for shower room door and bathroom with enclosure
1.Product Name:Glass factory price 12 mm flat and curved clear tempered glass for shower door and bathroom with enclosure
2. Different types:framed,semi-frame,frameless
3.Glass shape: square,oval,flat,curved,rectangle,etc
4. Glass Thickness: 12mm
5. Glass color: Clear, ultra bright, gray, green, blue, bronze
6. Processing: Beveling, Cutting, Drilling, etc. must be done before hardening
7. Packing: Plywood crate with steel belt
8. Application: Widely used in balcony glass, canopy glass, shopfront glass, pillar glass, etc
Factory price 10mm 12 mm flat and curved tempered glass for shower room door and wall with enclosure

Shower room glass has become popular in many homes. Customers of these homes have realized that curved glass shower screate a better aesthetic and sophistication.
The shower door glass can be flat or curved,can be tempered or laminated, can be drilled, notched, and precisely cut to the mounting hardware, depending on your design drawings. Shower glass thickness is usually 4-12mm, 5mm, 6mm, 8mm 10mm is more popular in the market.
Kunxing Glass produces different glass to build a glass shower room to meet the specific needs of everyone. The most popular glass made shower door tempered glass.

Tempered curved glass specifications
Thickness: 5 mm 6 mm 8 mm 10 mm 12 mm 15 mm
5-6 mm radius range: 1000 mm
8-12 mm radius range: 1500 mm
15-19 mm Radius range: 2000 mm
Color: transparent, green, blue, ultraclear, gray, bronze
Type: single layer or laminated or colored,reflective, acid etched screen printing glass, etc.

Characteristics
• Pattern glass in addition to canned decoration of our shower room, also protects privacy.
•Frosted glass produces translucent Satin and maintains high light.
•Colorless glass allows enough light to enter the shower room and clear view.
• The color of the glass can be added to the shower to give a different color.
• PDLC can switch smart glass to replace transparent opaque switch. When I take abath, you can make it opaque. When you need light to open, you can save a lot of money.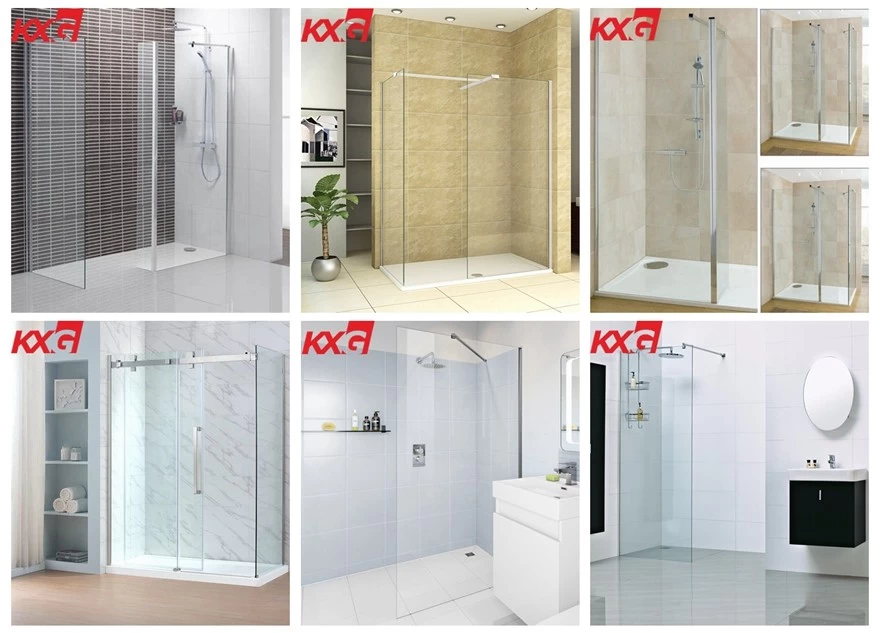 DONGGUAN KUNXING GLASS CO.,LTD
Tel:+86-135000092849
Contact Person:Kevin
PDF Show:PDF