Germany Clients visting KXG for 4mm safety clear tempered glass
DONGGUAN KUNXING GLASS CO LTD
original
2019-04-28 21:49:34
Saturday, April 27, 2019, three Germany clients visited Kunxing Glass Factory for a long-term business relationship. We picked the three clients from Shenzhen to our fatory. On the way back to the factory,we met heavy rain, but we talked very happy.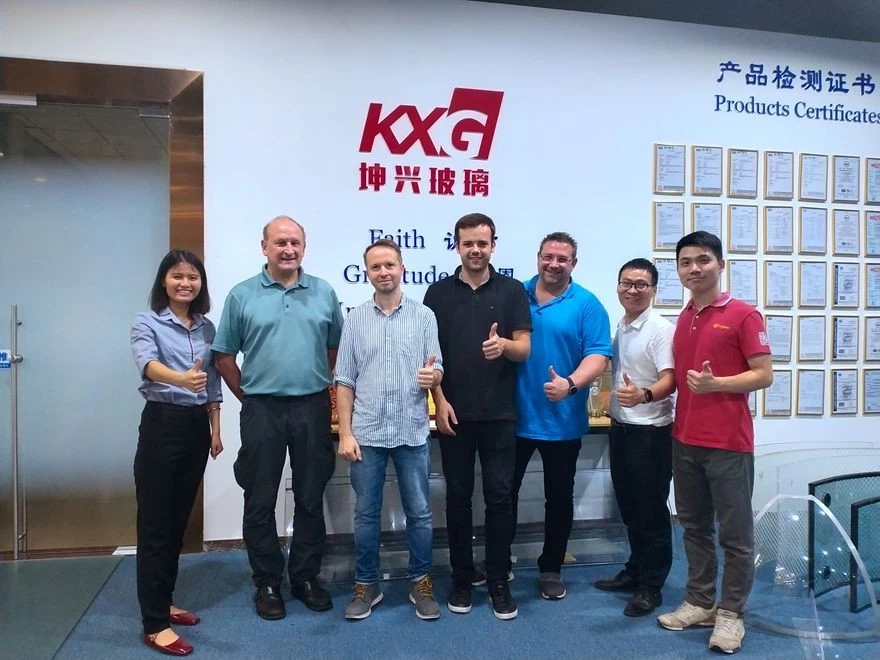 Before coming to our factory, the Germany client asked us to prepare two samples and they will come to check if the glass meet their standards. First, we tested the sample with clients. Clients mainly tested the flatness and tolerance of the glass. Our clients were satisfied at our glass, and they said all is ok, very perfect.

After testing, we took clients to visit our sample room. Our clients were interested in our tempered glass and printing glass. They asked us many questions about our printing glass, and they were satisfied at our professional answers. And then we introduced difference between clear tempered glass and extra clear tempered glass.

After visting our sample room, we took clients tovisit our production workshop. We intoduced all glass process to Germany clients, and they were eager to building a long-term business cooperation with us.
After visiting workshop, We sat down and discussed the detaileds ofthe quotation. Finally, we arranged the car to take them back to the hotel.
KXG is a professional glass deep-processing factory, and our products are customizable. Our mian products are tempered glass, laminated glass, insulated glass, printing glass, etc. We care quality for a long-term business relationship with each client.