Huoshan Guangdong Huoshan glass bridge opened on May 1
DONGGUAN KUNXING GLASS CO LTD
Internet
2019-05-03 17:12:41
Huoshan Scenic Area is located in the middle of Longchuan District. This is one of the seven famous mountains in Guangdong. This is a provincial park and a national AAA tourist resort.
Construction of the high-altitude glass bridge in Huoshan Scenic Area began on May 4, 2017. The total length of the bridge is 4.7 km, of which the glass bridge is 200 meters long and the large glass platform is wide. about 400 square meters.
Huoshan glass bridge is built on a mountain and has strange, delicate and dangerous features. Guests can enjoy Longchuan's unique pastoral landscape through the viewfinder.
Glass bridge is made of ordinary glass and is made of two or more layers tempered glass.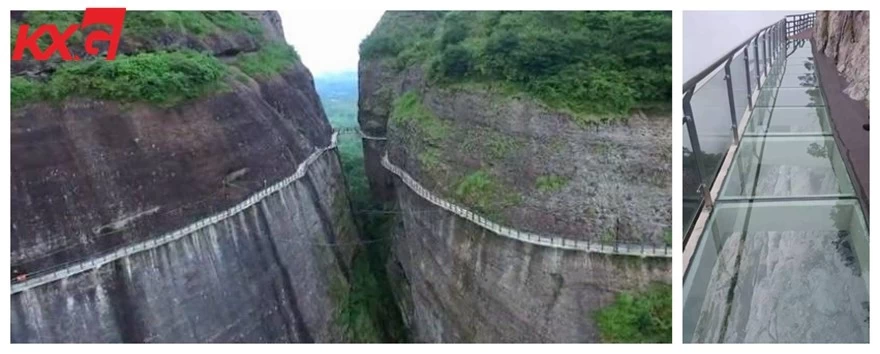 Kunxing glass specializes in manufacturing safety glass. The company can provide various combinations of tempered laminated glass. The popular combination sphere is 12 mm ultra clear tempered glass + 1.78 SGP ultra clear tempered glass + 1.78 SGP ultra clear tempered glass + Ultra clear toughened glass.
Tempered glass is a kind of prestressed glass. To enhance the strength of glass, chemical or physical methods are often used to form compressive stress on the glass surface. When the glass is affected by external forces, the surface stress is compensated in advance, thereby improving the bearing capacity and strengthening the resistance of the glass. Wind pressure, cold and hot, impact and so on.
Laminated glass consists of two or more pieces of glass with one or more layers of SGP films sandwiched between them. After the high-pressure pre-pressing or special vacuuming process and the high-pressure and high-pressure process, the glass and interlayer films are interlinked. Composite glass products.
Double layer tempered glass refers to the combination of tempered glass and laminated glass. After tempering the glass, it is processed more safely to link the two pieces of glass together. This is not just the shock and shock resistance of glass. Greatly improved and even if there is a problem, fragmentation will not break directly like ordinary glass, but in the lower layer, a large debris will continue to play a protective role.